Special Focus Issue on Music Teacher Education. Call for Papers.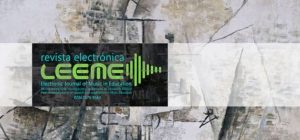 The Electronic Journal of Music in Education (LEEME) has opened a call for papers for a special focus issue on music teacher training entitled "Music teacher education: Where we come from and where we are going" and coordinated by Rosa Mª Serrano (PhD), from the University of Zaragoza.
This special issue seeks to address questions related to the training of music teachers at both ordinary and artistic teaching levels, nationally and internationally. To this end, the special focus issue is expected to pay attention to issues such as: the pre-service and in-service training that music teachers receive; the consequences of the European Higher Education Area on the training of music teachers; the tensions in the identity of music teachers: music-education, specialist-generalist, theory-practice; and the demands of society and the school with regard to music teachers, among many other issues. Manuscripts in English and Spanish are accepted. Deadline is July, 31st, 2020.
Full information about the call can be found in the attached document: Special Focus Issue 4th LEEME.
Link to the call for papers at the journal's website (in Spanish): https://ojs.uv.es/index.php/LEEME/index